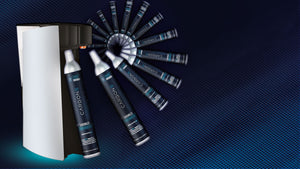 HOW OUR CARBON8TION CYCLE WORKS
Because the Carbon8 System is more efficient than conventional home carbonators, you will need less refills a year when used with our renewable Co2 Gas Cylinders. You need 2 cylinders to join our exchange program and to ensure you never run out of gas. If you already have 1 or 2 empty cylinders, we will send you a return box to get started.
Order full 2 cylinders from our website to get started.
CARBON8TION CYCLE
◌ Only $21 per exchange cylinder
◌ Click-free exchange
◌ No monthly fee or binding period
◌ Free shipping
No need to order again. Whenever you send us empty Cylinders in this box, we automaticlly send you back full ones.
FREQUENTLY ASKED QUESTIONS
The Carbon8tion is an on-demand exchange service. After you sign up for the service and place your first order, we securely save your payment details for future on demand exchanges.

The difference to a subscription models is that you control how often your cylinders are exchanged vs a monthly subscription.
There are no monthly payments like it makes it seem, you only pay for your order when YOU need more bottles and send your empty ones back.
Only you decide when this exchange happens and depends on your sparkling water consumption.
It depends entirely on how often you carbonate and drink sparkling water.
2 empty cylinders can be exchanged at a time with our exchange box. We recommend owning a total of at least 3 canisters. That way, you can always have one in your machine, even as you're sending your other 2 empties in to be refilled.
The water will no longer carbonate at a proper carbonation level. Before exchanging the empty cylinder, or putting it into the exchange box, make sure the cylinder is empty. First, there is a center pin at the top of your bottle, you will want to make sure that you are facing it away from you or anything you could potentially harm in case there is still a little CO2 in there. Doing this outside would be best.

Next, take a spoon, and decompress the canister from the center of the pin on the top of the bottle. This is to ensure that any CO2 that is left is gone and safe for you to now store or ship back. If nothing comes out, then the canister was empty already.

After decompressing the canister, you will want to take the cap that comes with it and make sure that you are twisting it on to make sure that it is closed and secure for being shipped back out.
Place your 2 empty CO2 canisters into the refill box. Don't forget to tape the box flaps shut - us, you and USPS employees don't want canisters falling out in transit!

Adhere the return label to the outside of the box. Ensure it is on a flat surface (don't wrap it around the edges) so that the label can be easily read and scanned by USPS. The top of the box works best.

Place the box in your mailbox or bring it to any USPS drop-off location. UPS or other carriers will not ship your refills.

That's it on your end! As soon as your refill is accepted by your local post office and scanned in, we will send out 2 more full CO2 canisters directly to you. Your card on your account will be charged for the cost of the refill at this time.