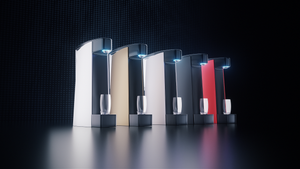 WE CREATED THE INFINITY STREAM WITH ONE MISSION IN MIND:
A SUSTAINABLE INSTANT SPARKLING WATER DISPENSER THAT IS EASIER TO USE THAN ANY EXISTING SYSTEM

It began with a simple question.
I love sparkling water, have a home carbonator, but why is it that I still buy sparkling water bottles and cans instead of using mycarbonator. Carbonators have been around for a long time, why are they so inconvenient to use.
 
Why couldn't I have the perfect glass of sparkling water at a touch of a button.
So, we set out to invent the first Click and Sip Sparkling Water Carbonator and Dispenser
THE PROBLEM WITH HOMEMADE CARBONATORS
SAME OLD TECHNOLOGY
The current sparkling water technology hasn't changed much. All the major models follow the same principles which creates waste, danger, and inefficiency.

Complicated to operate: There are too many steps: Fill the Water Bottle, Screw it into the machine, carbonate, pour. 

Bad for the planet:  PET Bottles are not sustainable and create waste – 480 billion bottles annually.

Hazardous materials: PET Bottles under pressure can explode causing serious harm.
MEET THE FOUNDER
Andreas Hansen is the CEO and Founder of Carbon8, the first ecofriendly sparkling water carbonator and dispenser to operate with just one-click and self-sanitize.

An experienced executive and board advisor in the home appliances industry, Hansen has worked with high-end brands such as Thermador, Gaggenau, and Bosch in more than 30 markets around the world and was most recently the Global President of Plum.

Prior to Plum, he served as President of Liebherr Appliances for the Americas for Liebherr Group, an $11 Billion multinational manufacturer. At Liebherr, he expanded Liebherr's appliances in the Americas, adding hundreds of new retail partners, and drove the region to record growth. He has also held leadership roles at Electrolux, The Legacy Companies, and La Cuisine International.

With nearly two decades of experience in strategic planning, product and brand marketing, market intelligence, sales management, distribution, and merchandising, Hansen has successfully positioned brands and driven profitable growth. Over the years, he has established strong relationships with retailers, distributors, and designers, contributing to the expansion and development of the brands he led.

Hansen serves on the Board of Advisors for Cooksy and and believes in helping to guide/lead the next generation of brilliant products.